Hello there!!
I'm Silvery!
Or Sivery...well since it's my ID, most people call me that, but it is actually a typo you know...I just realised it when I sign in for this account and now I can't change my name anymore. Best joke ever ;u;
And yes, that profile pic is my OC which I used to represents myself lol.
I live in Kenya these days...only go back to my motherland during vacations...
I'm from Beijing if you wanna know
I like drawing, but I don't have enough time to draw.
Now,
I LOVE ANIMATIONS!!!


There are quite many of them, but I just don't get time to draw any, I would draw fan arts sometimes if I feel like so.
Anyway, come and be a friend of mine!!! I am a very chill person and don't bite at all.


Oh, I think I need to say that I'm fine with Yaoi 0w0, the only thing is that I don't know how to draw them OTZ...
= = = = = = = = = = = = = = = = I am the dividing lineXD~= = = = = = = = = = = = =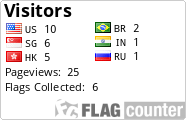 Get a FREE visitor map for your site!